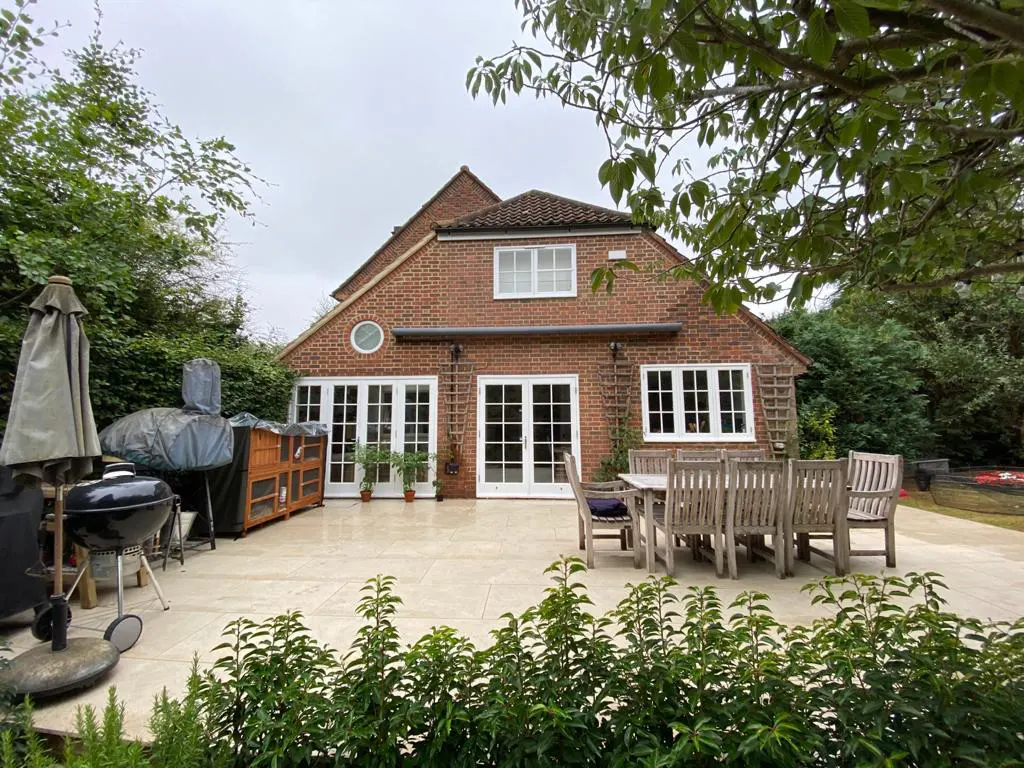 Awnings installations are a great addition to a Kingston garden
Whilst scanning through 'The Saturday Times' newspaper, our customers saw an advertisement for Sundowner Outdoor Living Ltd that caught their eye. This got them thinking on how an awning installation could be a great addition to their Kingston garden.
So they reached out to us, stating how they'd seen our advertisement and were interested in investing in one of our awnings. They wanted some cover on their patio area in the garden.
Initial survey to establish what type of awning is required
We headed over to the customers house to survey and measure for the awning. We use this appointment to find out what they're looking to achieve. Upon discussion we decided that our Sundowner awning would be the best option for them. This has a width of 5000mm and projection of 4000mm. Our customers wanted quite a large projection for it to cover a larger area of the patio. This is so they could sit at their table on a nice summer evening. The client explained that they would like the awning to stop just before the large existing tree off the edge of their patio. They went for our cassette colour in its standard RAL 7016 Anthracite Grey and a choice of Irisun solid G488 for the awning fabric itself.
Eolis 3D vibration sensor
Once the awning was ready for them, we promptly revisited to get it installed for them. They also had the Eolis 3D vibration sensor fitted with the awning. This detects vibrations from high winds and will automatically retract your awning to protect the fabric, mechanism, and your property should you not be at home during windy conditions.  The sensor is very long lasting. It doesn't require any maintenance, and is also battery powered meaning. This means that when it does eventually  become low, the indicator warning will show and the batteries can be easily replaced by anyone.
Flagship Sundowner Awning
The Sundowner awning is our state-of-the-art flagship product. A full cassette, slimline awning, available in sizes up to 6000mm wide and 4000mm projection. It has an elegant slimline design with the cassette unit fully protecting the awning fabric. The cassette comes in RAL 7016 Anthracite Grey as standard however this can be powder coated to a different colour upon request.
Most Popular Style of Awning
The Sundowner awning is our most popular style of awning that we sell, it only comes motorised. An additional extra that can only be added to our Sundowner awning is the option of integrated LED lights. These can be added to the arms of the awning only or to the arms and the front of the cassette also. A benefit of adding them to the arms and the front of the cassette is that this enables you to use the lights even when the awning is retracted. If you are to have the integrated LED lights on the arms of the awning only this means that you would only use them when the awning is in use, as the arms retract into the cassette.
Infrared Heaters to Compliment Your Awning
Another additional extra that we offer for all our awnings are infrared heaters that would be installed underneath of the awning. Infrared heaters are a great extra as it enables you to extend the use of your awning throughout the year, even entering the colder months you can still make use of your awning and outdoor space by adding in the infrared heaters.
Delighted Customers
We left our customers very delighted with their awning and extremely pleased that they had come across our advertisement in 'The Saturday Times'. They were looking forward to using their awning to extend their usage of their patio area for those lovely warm summer evenings.
Our customers stated:
I am so pleased that we happened upon the Sundowner advert in the weekend paper. It spurred us on to make an addition to our garden that has made such a huge difference to us already, and it's only been a couple of months! 

This brilliant awning has enabled us to use our outside space all the time – regardless of the weather. It has become like an extra room in our house.  When Covid rules have allowed – we have been able to entertain friends in the warmth and the dry – but even when it is just us, it is now a wonderful place to sit in the evening. I know we will get so much use out of it.

When the team arrived to measure up, they were prompt, polite, helpful, knowledgeable and were able to give great advice on what spec would work best for our space. The choice of colour options was very extensive – but I am very pleased with the one we finally chose which suits our garden perfectly.

The ordering and installation of the awning was very smooth and using it could not be simpler.

We are delighted with all aspects of our awning and I cannot recommend Sundowner highly enough.