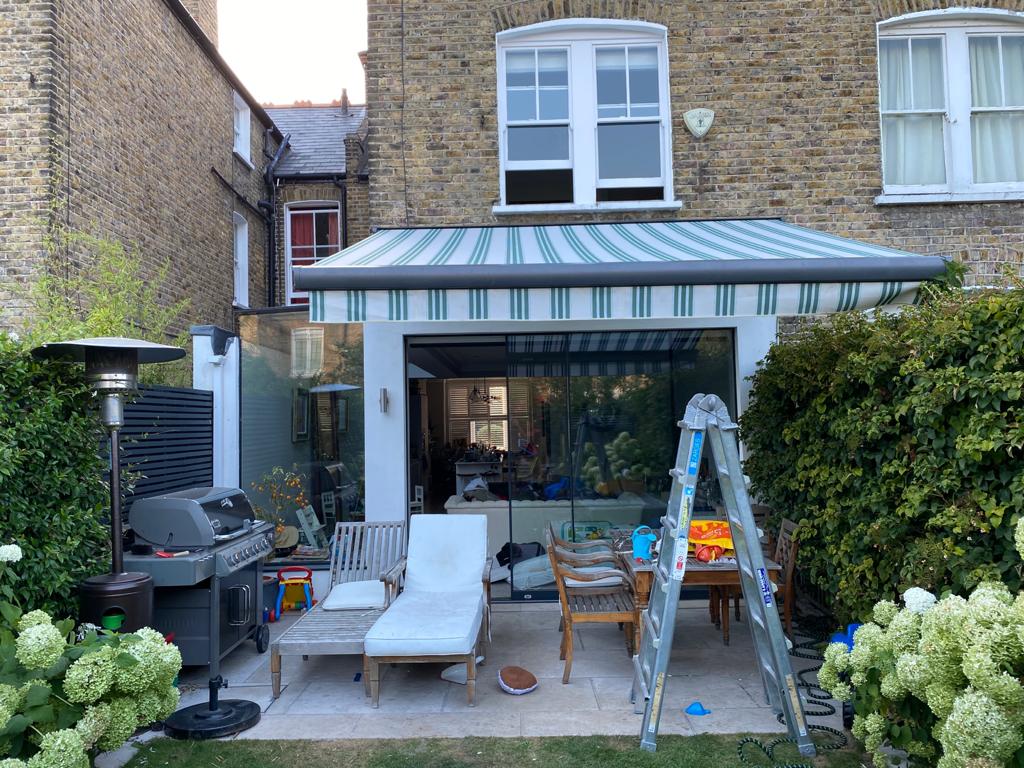 We received an enquiry through at Dirtyblinds Ltd from our customer with a requirement for an array of blinds for several rooms in their house.
After being sent over images and a description of what the customer was ideally looking to purchase, we headed on over to survey and measure all their windows for them. This allowed us to get a closer look so that we could give a list of suggestions, explaining what may work best for them in each room for their awnings and blinds installation.
Joint venture between Dirtyblinds and Sundowner Outdoor Living
Surveying for Blinds, and planning for Shading
Upon surveying for the blinds, we had explained to our customer about our sister company Sundowner Outdoor Living Ltd and how they provided awnings, shades and structures for outdoor shading. Our customer was extremely intrigued by this and enquired whether their garden would be well suited for one of our awnings; we went ahead and explained how an awning would work perfectly in their garden and explained the benefits it would provide. Therefore, as well as measuring for the blinds, on this same day we went ahead and took the measurements for the awning as this was something that our customer was highly interested in adding to their home. We had also discovered that our customer was a fellow sailor, which we found highly exciting being lovers of sailing ourselves which lead us into explaining to them our sailing backgrounds and how that linked into Sundowner Outdoor Living Ltd.
Measuring Up and Options
After measuring and explaining the different options our customer decided on 3 different types of blinds from us. In their top floor spare bedroom, they had decided upon a Velux GGL 104 Blackout Roller blind that would be solar powered in a plain white shade. Velux blinds are for pitched and flat roof windows which is why they were the ideal selection for this room, having gone for a blackout fabric and due to the blinds side cassette rails this allows you to achieve the perfect sleep with total blackout. As well as this, this room also needed a replacement roman blind headrail with a width of 1007 mm that would be motorised, using a low voltage battery operated 'Somfy Tilt & Lift Motor'.
Replacement Roman Blinds
In the second spare bedroom our customer only needed a replacement roman blind headrail with a width of 1670 mm that would also be motorised, using a low voltage battery operated 'Somfy Tilt & Lift Motor'.  Upon reviewing fabric choices for the other blinds, the customer fell in love with roman blind fabric F0976/08 Chiasso, colour: Duck egg. The customer was unsure of whether to proceed with a new roman blind using this fabric, to help make their decision that little bit easier we offered them a discount on this blind as they were placing a large order and they were shopping locally, which we always appreciate.
This calls for a large Blackout Blind
The master bedroom called for one large blackout lined roman blind, also using a low voltage battery operated 'Somfy Tilt & Lift Motor', and the fabric shade 7902/23 DUNE Feather Grey and a replacement roman blind headrail as there were two sets of windows in this room. Both would be motorised by a battery pack.  Roman blinds combine the luxury of curtains with a tidy finish, they can create your desired look, be it luxurious, contemporary or a statement depending on the fabric that you choose. We have a vast range of fabrics to choose from to give you the look you desire, subtle to bold colours, contemporary design, and floral designs to excite. Roman blinds are a decorative blind option forming soft pleats when raised and hanging flat when lowered.  Our customer had again chosen blackout lined fabric for these blinds to aid that perfect night's sleep.
Somfy Sonesse 30 RTS Wirefree for the Child's Bedroom
In the child's bedroom our customer opted for a 'Somfy Sonesse 30 RTS Wirefree' motorised blackout roller blind in Maine roller blind fabric with the colour Angora to match their décor. Roller blinds are perfect for a simple contemporary look, they are simple in design, stylish and easy to operate. The blind is simply rolled up or down to achieve the required level of shading for you. Our roller blind collection is an exciting mix of fabrics specially selected to complement and coordinate with any room in the home. Whether it's one of your modern designs for your living room, a blackout fabric for the bedroom or a water-resistant print for the bathroom, all our roller blinds are individually manufactured to your unique specification. You can even personalise your window blind with one of our sleek cassettes which are fitted to the top of your blind, discreetly housing the operating mechanism.
Installing a Skylight on the landing
The final window that needed blinds was the landing skylight, at an installation height of approximately 6 metres, this was a rather tricky installation. With our guidance they decided to go for another Velux GGL 104 Blackout Roller blind that was also would be solar powered in a plain white shade in a white. A Stylish blind that never goes out of fashion coming in many different designs and a good variety of colour. This blind was the perfect selection for the landing skylight as it is a hard to reach window which is why it also made sense for them to pick motorised rather than manual.
It's all about the Power Options
Our customer had decided to go ahead with all motorised blinds on this project. Motorised blind systems come with two power options and they both also have their own individual benefits:
Mains
The benefits of choosing a mains powered motorised system are:
Constant power supply
Ideal for heavy or large blinds
No battery replacements are necessary.
Battery operated
The benefits of choosing battery operated motorised blinds are:
No need for running any wires
Rechargeable battery option
Solar power charge
Greener energy source.
Having control in the palm of your hand
Motorised blinds give you the ability to control all your blinds from the palm of your hand. They come with a long list of benefits some of which are that they reduce cooling and heating bills by shading the suns heat perfectly throughout the day autonomously to ensure the inside of your home is the perfect climate. As well as this there is also a child safety aspect as the motorisation removes the need for cords and other potentially dangerous components of manual blinds. Motorised blinds can be controlled via a remote, home automation or the Louvolite smart phone APP.
Our customer had chosen to go for all battery-operated motorised blinds as they specifically requested that there would be no wires and enjoyed the idea that they could be solar powered. They had also chosen to have all the blinds in a blackout fabric, blackout blinds come in a variety of choices, Roller's, duettes, romans and many more. Whether you are looking to block out light in a bedroom, media room, or home cinema; our blackout blinds will provide you with the perfect solution. Manufactured in our London factory as quickly as 3-5 days depending on blind and fabric choice.
Now for the Garden Awning
In the garden our customer had chosen to go for our 'Sundowner' awning with a Width 3800 mm x Projection 3200 mm and the fantastic fabric choice of IRISUN Acrylic Range G432 green and cream stripes. The 'Sundowner' awning is our state-of-the-art flagship product. A full cassette, slimline awning, available in sizes up to 6m wide and 4 m projection. It benefits from its elegant slimline design with the cassette unit fully protecting the awning fabric. We also added an additional extra of 1 pair of spreader brackets, spreader plates are designed for installation to single storey extensions and load bearing applications. These brackets are 10mm thick and suitable for all awning models. This awning also included a wind vibration sensor; this vibration sensor detects vibration of an awning caused by excessive wind, that will then send a radio command to retract an awning when the vibration due to wind is greater than the set point. This means that you do not have to worry about high wind speeds as your awning will automatically retract itself should the wind speeds get too high which is extremely practical especially if you are away from your home.
Fast Turnaround
After having selected all their product choices from Dirtyblinds LTD and Sundowner Outdoor Living Ltd our customers were extremely happy with the fast turnaround and how easy the entire process was for them, from measuring to fitting and everything in between. After having installed the 'Sundowner' awning our customers had also informed us that they had passed our details onto their next door neighbours as they had loved the look of their awning and were interested in finding out about purchasing one themselves. This was great news for us as it shows just how amazing our products look and serve their function. Having only originally enquired for the blinds our customer was very impressed with the outcome of these alongside the addition of the awning and were very happy to pass our details on and recommend us to another customer.
Aftersales and Happy Customers
Our aftersales department emailed the customer post completion to ensure they were happy with all products and the service received. They responded with this feedback: 
My husband and I are extremely pleased with the service provided by Sundowner Outdoor Living Ltd & Dirty Blinds Ltd.   Bradley was very professional, reliable, and efficient. The products are fantastic – the motorised awning installed in our back patio has protected us from the sun and rain and extended our use of the back garden substantially.  Our custom blackout blinds made for each room and the blackout Velux skylight shade keeps the house nice and dark when needed and helps our young son sleep in a bit longer in the mornings which we are eternally grateful for.  We would enthusiastically recommend Bradley and his team!