Weatherproof A Courtyard Area with Sail Shade
Goldfinch, an independent cocktail and wine bar in Tooting Broadway, contacted Sundowner seeking a solution on how they could weatherproof their courtyard area to maximise its use through all seasons.
Choosing the right type of Sail Shade
They were looking for something that would weatherproof the area, as well as being aesthetically pleasing. We suggested that they invested in a 4 corner Hypar waterproof sail shade. This is a very versatile product. Sail shades can function as an eye-catching feature, as well as providing water cover or full sunshade to the area below.
A hyperbolic shade is a 3-dimensional shape allowing a 3D twist that's visually pleasing. It also helps with the prevention of rain and snow collecting on top of the shade.
Therefore, this seemed like the perfect solution to their enquiry. Not only would it provide full water cover for the current seasons, but it would also help to provide shade from the sun when needed.
Choosing the sail shade colour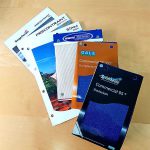 After a site visit to survey and discuss their requirements further, they happily decided to go ahead with our suggestion. They selected a Zinc colour STAM- 6002 fabric for their shade. Once the bespoke sail shade was ready, we headed back to fit it alongside two 139.7 MM galvanised steel posts to facilitate the installation. This choice of shade is also removable should it need to be taken down. However, it is able to withstand up to 60mph adverse winds.
Additional Infrared Heaters
After fitting the shading goldfinch reached back out to us enquiring on purchasing two infrared heaters for underneath the shade. We were able to supply and install these quickly for them at a time when many other companies couldn't due to the current high demand for these products.
Satisfied customers and Trustpilot Reviews
Our client was extremely happy with the results and left a review on our trust pilot page stating:
I challenged Brad and Terry to come up with a solution to weatherproof our courtyard area. They suggested a sail sheet and after a professional demo we decided to go ahead. A few weeks later our bespoke sail sheet was installed very promptly and has transformed the space. We are delighted with the result and has made the area far more comfortable for our customers. I would highly recommend Sundowner!
Looking for a Cocktail Bar in south west London?
Goldfinch is your friendly neighbourhood cocktail bar that serves great drinks accompanied by classic tunes. Whilst working at goldfinch we could feel a real understanding of the work ethic of the owner and manager to meet the customer's needs and ensure that every visit was enjoyable whilst providing a fast service and fantastic array of unique cocktails.
Unfortunately, we didn't have the time to try any of the amazing drinks on offer however we will definitely plan a 'business meeting' in short order to do so. We would highly recommend you taking a visit to this charming, cosy location to enjoy a delicious beverage.